At Blue Dove we have  both eternity rings, as well as half eternity rings.
Eternity rings are traditionally a band set with diamonds, but can of course include other stones too.
Most commonly an eternity ring is given to celebrate a milestone wedding anniversary, such as 10 years. It's a way to celebrate the longevity of your marriage, and a symbol that it will last forever.
It can also be commonly used to celebrate the arrival of your first child together, but can be bought for other special moments too. Such as buying your first home together, renewing your vows, or other milestones for you as a couple.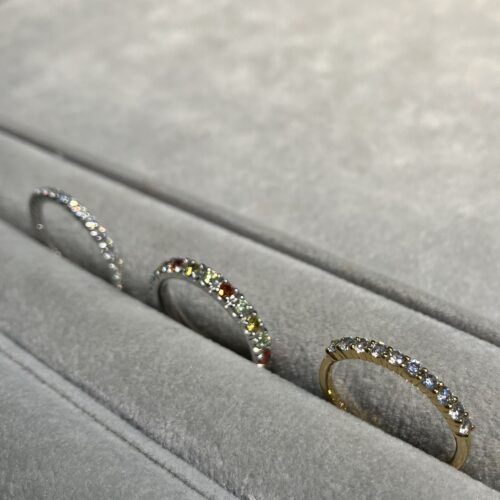 Eternity rings generally features stones all the way around the band, but there are also half eternity rings, where the stones are only set along the top of the ring. Sometimes half eternity rings are preferred for reasons such as, comfort, the ability to resize the ring later, or budget.
Either way, an eternity ring is a perfect symbol of your everlasting love.
Blue Dove Jessica Nylund
[Contact]
Email: info@dovemarriagerings.com
Reception hours: 10:00~18:00
Blue Dove https://dovemarriagerings.com/contact
Blue Dove Wedding Rings https://dovemarriagerings.com/category/products/marriage-ring
Blue Dove News Article https://kichijoji.keizai.biz/headline/3081/