In addition to various shapes, material colors and designs, BlueDove uses a wide variety of surface treatments to create different textures.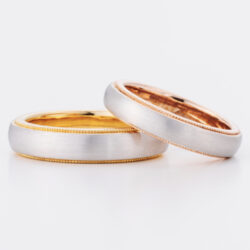 This first one is a hair strand finish.
As the name suggests, it looks like strands of hair.
A delicate surface with fine lines.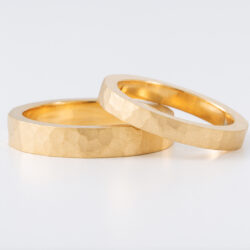 This is a hammered texture.
Commonly used to create a more organic look.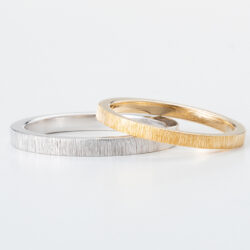 This here is an inherited traditional metal engraving texture.
This surface treatment is unique to Mr. Yamada.
To create this, we use a tool called Nunome chisel.
In addition to these, there are many other surface treatments and textures.
When you design a ring with us here at DOVE, we will always consult you about your wanted texture, as well as design and material. The texture of a ring can completely change the look and feel, therefore it is an important part to consider. This way you can give your jewelry a unique and special expression.
Please feel free to come by our studio, and we would be happy to introduce more textures and designs to you.
Blue Dove Jessica Nylund
[Contact]
Email: info@dovemarriagerings.com
Reception hours: 10:00~18:00
Blue Dove https://dovemarriagerings.com/contact
Blue Dove Wedding Rings https://dovemarriagerings.com/category/products/marriage-ring
Blue Dove News Article https://kichijoji.keizai.biz/headline/3081/