We designed a wedding ring called AIOI from Blue Dove with a mizuhiki motif.
Actually, this ring is not a braid, but a so called "Aioi knot".
The loops in this shape are woven together like Moebius strips.
It's a technically advanced wedding ring shape to produce, but at Blue Dove we like a challenge.
We are very proud of this design. Please drop by the Blue Dove studio and have a look!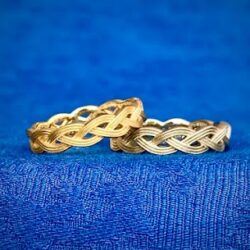 Here is a picture of a customer's wedding ring, in yellow gold and white gold.
Would you like to order a wedding ring or engagement ring at Blue Dove?
Please book an appointment, and enjoy Western-style jewelry culture.
Blue Dove Jessica Nylund
Blue Dove Wedding Rings https://dovemarriagerings.com/category/products/marriage-ring
Blue Dove Newspaper Article https://kichijoji.keizai.biz/headline/3081/