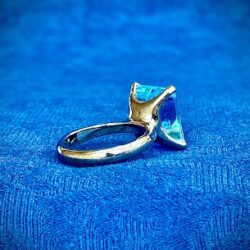 The photo shows a custom order of jewelry with a large aquamarine stone.
The ring is made with 18k white gold.
A design that maximizes the size of the stone seat to capture a lot of light.
The height of the stone has been set as low as possible, to sit snug on the finger.
Design balance is an important factor, especially when using a big stone like this.
At Blue Dove, all of our artisans have knowledge in the important elements of jewelry design, and will be happy to assist you using their expertise.
Please feel free to stop by our studio for a consultation.
Blue Dove Jessica Nylund
[Contact]
Email: info@dovemarriagerings.com
Reception hours: 10:00~18:00
Blue Dove https://dovemarriagerings.com/contact
Blue Dove Wedding Rings https://dovemarriagerings.com/category/products/marriage-ring
Blue Dove News Article https://kichijoji.keizai.biz/headline/3081/