Recently, we had a consultation with a customer who wanted to purchase a wedding ring, but was worried about metal allergies.
"It's not an allergy, but I'm worried about my sensitive skin, so I'm thinking about using platinum."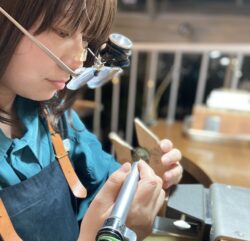 Wedding ring production
In Japan, many wedding rings and engagement rings are made of platinum or gold.
But opposed to common assumption, it is scientifically proven that platinum is more allergenic than gold.
So if you are concerned, we recommend that you choose a gold-based wedding ring or engagement ring.
During the consultation we also talked in detail about gold materials that are less risky, and chose the most suitable metal for the specific customer.
We always make sure to listen to our customers thoughts, wishes or concerns in detail, and can give advice during consultations based on our specialized knowledge.
Each customer is different, which is why we believe that custom-made is the always the best option.
Please book a consultation and come visit us if you need any assistance in choosing the right jewelry especially for you.
Blue Dove Jessica Nylund
[Contact]
Email: info@dovemarriagerings.com
Reception hours: 10:00~18:00
Blue Dove https://dovemarriagerings.com/contact
Blue Dove Wedding Rings https://dovemarriagerings.com/category/products/marriage-ring
Blue Dove News Article https://kichijoji.keizai.biz/headline/3081/